CLOSED for the season!

Happy Holidays!
WELL
SAFE
We appreciate all of our customers. Be safe and healthy. Take care of yourself and each other.
The difference in Wellwood's is Flavor!   
802-263-5200
Check out our tips & tricks here!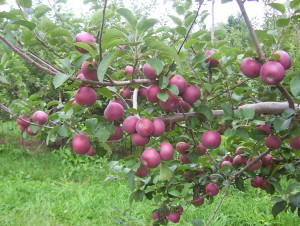 Always call for conditions if you are traveling far. 802-263-5200
·
We will have a few picnic tables out during the season. Please be courteous and do not linger.
·
NO PETS ALLOWED at the orchard
·
Please continue to support us by PAYING for ALL fruit picked.
· Pay into the money box unless there is an attendant
· Wash your hands before and after visiting
· Never PICK UP the animals
· Never CHASE the animals
· Enter at your own risk, as always
We accept VISA, MASTERCARD, CASH & LOCAL CHECKS.

 cider donuts are weekends only,  during Apple Season, come early!
Wishing each of you HEALTH AND PROSPERITY every day of the Year! We are Thankful for you, our customers, friends and family.
Wellwood Orchards is a family owned and operated farm located in Springfield, Vermont. During apple season we have wagon rides into the orchard to pick your own apples or you can purchase already picked apples and other produce in our country store.  We grow many varieties of Apples, as well as Strawberries, Blueberries, Raspberries, Peaches, Plums, Pumpkins and more! While you're here enjoy our country store with Fresh Baked items that keeps the place smelling like grandma's kitchen! Also purchase Vermont Maple Syrup, Honey, Vermont Hand Crafts and many other delightful items.
Don't forget the petting zoo!

(a little orchard humor video with the hens)
529 Wellwood Orchards Rd. Springfield, VT 05156
*see our APPLES APPLES APPLES page for varieties we are picking*
529 Wellwood Orchard Road
Springfield, VT 05156   

802-263-5200

---
529 Wellwood Orchards Rd. Springfield, VT 05156
Directions from the North:
Take Interstate 89 South to Interstate 91 South.
Follow Interstate 91 to EXIT 8, the Ascutney Windsor exit.
Turn right at the end of the Exit ramp. Follow for about 2 miles.
There will be a State sign indicating Wellwood Orchards Next Left.
Take this Left (Weathersfield Center Road) and follow for about 4 miles,
Wellwood Orchard Road is on the right, follow for about 1/2 mile, and there you are!!
Directions from the South:
Follow Interstate 91 North to exit 7.
Stay to the right when getting off the exit.
Follow this road into downtown Springfield.
When you get to a True 4 way Traffic light (not a yellow flashing light)
Go straight through and take your next right, Valley Street
Follow this road for about 4 miles. You will pass Crown Point
Golfing club, when you begin to go down hill you will take the left at the bottom of the hill
Onto Wellwood Orchard Road. Follow for about 1/2 mile, and there you are!!
As always, call from where you are, we will give you directions. 802-263-5200
Save
Save
Save
Save
Save
Save
Save
Save
Save
Save
Save
Save
Save
Save
Save
Save
Save
Save
Save
Save
Save
Save
Save